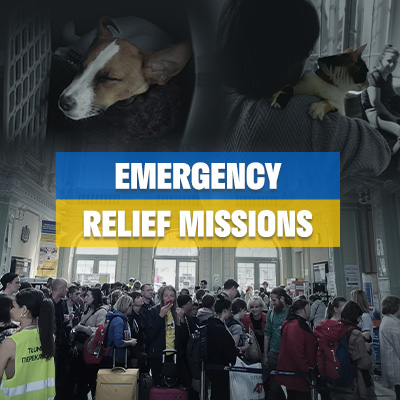 Your kindness changes lives
The latest from Ukraine - 25.08.22
Since the very beginning of this terrible conflict, your donations have truly been life-changing for the animals and refugees of Ukraine. 
Since our last update in June 2022, thanks to your incredible support, six relief missions into Ukraine have been successfully completed, providing food supplies, medication and emergency treatment to over 3,000 animals. Your donations have also enabled TOZ to help over 10,000 animals through their reception points on the border with Ukraine and through their newly built emergency clinic, which provides treatment and a safe shelter for up to 40 animals a day.  
Not only have your donations been supporting the incredible work of TOZ, you are also helping another renowned charitable organisation, Save The Dogs in Romania.
They have established a safe corridor from Bucharest, Romania all the way to Odessa, Ukraine, to ensure life-saving food supplies and medications are delivered to those in need.  
Because of you, Save the Dogs have already been able to send more than 166 tons of food and medication to Ukraine for abandoned animals in the streets and in shelters.  
Please watch the video below to see the difference you are making in the lives of the animals affected by this terrible conflict. Thank you.
Thank you for making all of this possible.